Item #
DVD143709
Ford GT40
the Story
from 1963 to the new GT supercar

From the birth of the GT40 in the 1960s to the very latest Ford GT supercar, this program charts the life of one of the greatest sports cars of all time.
Designed specifically with one objective - to win at Le Mans - the GT40 quickly became a winner, not only on the track, but also in the hearts of racing fans, car enthusiasts and the public alike.

Bruce McLaren and Chris Amon secured the GT40's first Le Mans victory in 1966 with GT40s also finishing in second and third place. It continued to take victories in the following three Le Mans, winning the Sports Car Championship in 1968 and becoming the first car to top 200 mph on the Mulsanne straight at Le Mans. The goal set by Henry Ford II was well and truly accomplished.

This program goes under the bonnet of a 20th century icon. It features archive and contemporary footage of the original GT40s with Tiff Needell putting two very different works cars through their paces. Just crank up the volume to hear the fabulous V8 roar as our on-board camera records Tiff pushing the speed past 200mph – not bad for a 40 year old car! The breathtaking new GT model is captured on road and track, taking the model's legacy into the 21st century. They say Ferrari should be really worried about the Ford GT, and in this program you can see, and hear, why.

Featuring exclusive interviews with GT40 designer Eric Broadley and Le Mans winner Jackie Oliver.

| | |
| --- | --- |
| ♦ Running Time | 75 Minutes |
| ♦ Picture | Color |
| ♦ Sound | Stereo |
| ♦ Format | PAL |
| ♦ Region Code | 0 All Regions |
| ♦ Language | English |
| ♦ Published | 2004 |
by
Duke
DVD


Price :
CHF 33.00


in-stock
Item #
DVD40917
The GULF / Wyer
GT40's & 917's
In Action

'Never Start Something You Can't Stop' concentrates on the efforts of the John Wyer team of Gulf Ford GT40s to win the 1968 Le Mans 24 hour race. It begins with a fast lap around the 8.4-mile circuit viewed from a GT40. In the race Rodriguez and Bianchi provided a first Le Mans victory for themselves and Gulf Oil and a second victory for John Wyer who had also won in 1959 with his Aston Martin team. This was the third successive win for Ford.
'A Year To Remember' is a marvellous record of John Wyer's highly successful 1970 season when his fabulous Gulf Porsche 917s swept to victory in seven out of ten Championship races. During the film John Wyer, Pedro Rodriguez and Seppi Siffert appear from time to time providing a poignant reminder of the personalities who made such a great contribution to motor racing.

| | |
| --- | --- |
| ♦ Running Time | 65 Minutes approx. |
| ♦ Picture | Color |
| ♦ Sound | Stereo |
| ♦ Format | PAL |
| ♦ Region Code | 0 All Regions |
| ♦ Language | English |
| ♦ Published | |
by
TSV
DVD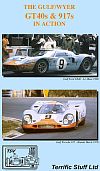 Price :
CHF 59.00


in-stock